Videos:
Research/Articles:
"A first-year statistics major could tell you about major flaws in the design of the analysis," one expert said.
"The reviewers were unable to conduct "an independent and private peer review" and withdrew from the process, The Lancet said."
"The large number of patients raised important questions among outside experts."
"The amount of patients that were included in a given country or given continent was almost more or a very high proportion of the total number reported in that geographic area, as if they were including more cases than possible," said Dr. Daniel Culver, a pulmonary and critical care expert at the Cleveland Clinic who was not involved with the research."
"Given the urgency of the situation, I developed the following treatment protocol in the pre-hospital setting and have seen only positive results:
Any patient with shortness of breath regardless of age is treated.
Young, healthy and low-risk patients even with symptoms are not treated (unless their circumstances change and they fall into category 1 or 2).
Hydroxychloroquine 200mg twice a day for 5 days; Azithromycin 500mg once a day for 5 days; Zinc sulfate 220mg once a day for 5 days.
– Dr. Zev Zelenko, Board Certified Family Practitioner.
"Only diagnosed COVID-19 patients who met the defined risk stratification requirements of group A, B or C received a prescription for the following triple therapy for 5 consecutive days in addition to standard supportive care:
zinc sulfate (220 mg capsule once daily, containing 50 mg elemental zinc); HCQ (200 mg twice daily); and azithromycin (500 mg once daily).

No loading dose was used. Patients who did not meet the risk stratification requirements received standard of care to treat common upper respiratory tract infections. Patients were not treated with HCQ if they had known contraindications, including QT prolongation, retinopathy or glucose-6-phosphate dehydrogenase deficiency."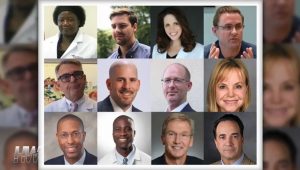 Some of the doctors who are successfully curing COVID patients with Hydroxychloroquine that the Globalists are trying to silence. Why?
Medicines for the Prevention of Malaria While Traveling Hydroxychloroquine (Plaquenil™)
"All patients in Marseille center were proposed
oral hydroxychloroquine sulfate 200 mg, three times per day during ten days

."
"At
day 6 post-inclusion, 100% of patients treated with hydroxychloroquine and azithromycin combination were virologicaly cured

comparing with 57.1% in patients treated with hydroxychloroquine only, and 12.5% in the control group (p<0.001)."

Is Quercitin an alternative 'zinc ionophore' adjuvant where hydroxychloroquine is unavailable for early treatment of COVID-19? 
"Quercetin in a delivery-food grade system with sunflower phospholipids (Quercetin Phytosome®, QP) increases its oral absorption up to 20-fold."
"In the present prospective, randomized, controlled, and open-label study,
a daily dose of 1000 mg of QP was investigated for 30 days

in 152 COVID-19 outpatients to disclose its adjuvant effect in treating the early symptoms and in preventing the severe outcomes of the disease."
"..the use as adjuvant therapy of a daily dose of 1000 mg/day of formulated quercetin (
2 daily doses of 500 mg each

), corresponding to 400 mg of quercetin delivered by sunflower lecithin (a food-grade delivery system used to improve the well-known poor oral bioavailability of quercetin), statistically improved all the clinical outcomes considered (need and length of hospitalization, need of non-invasive oxygen therapy, progression to intensive care units and death).."

https://au.iherb.com/pr/thorne-research-quercetin-phytosome-60-capsules/58566?gclsrc=ds
"Higher level of intracellular zinc showed to increase intracellular pH; which affect on RNA-dependent RNA polymerase and decrease replication mechanism of RNA viruses. Therefore, drugs that described as zinc ionophores could be used with zinc supplement to act as antiviral against many RNA viruses including SARS-CoV-2.  Quercetin is natural compound act as zinc ionophore to cause zinc influx intracellular."
 "It was shown that Quercetin has the ability to chelate zinc ions and act as zinc ionophore. Therefore, quercetin could have antiviral activity against many RNA viruses ."
 " There are various studies that report the immunomodulatory effect of bromelain . Bromelain activates natural killer cells and augments the production of granulocyte-macrophage-colony stimulating factor, IL-2, IL-6 and decreases the activation of T Helper cells. Thus, bromelain decreases the majority of inflammatory mediators and has demonstrated a significant role as an anti-inflammatory agent in various conditions."
" Vitamin C is known as an essential anti-oxidant, and enzymatic co-factor for physiological reactions such as hormone production, collagen synthesis and immune potentiation ."