Efficacy: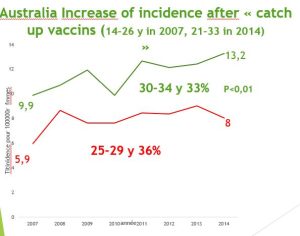 Non vaccinated women continue to benefit from screening with pap smear
During the same period, older women (and therefore unvaccinated) saw their cancer risk decrease significantly:
less 17% for women aged 55 to 59 (from 9.7 to 8.1),
less 13% for women aged 60 to 64 ( from 10.3 to 8.9),
less 23% for those aged 75 to 79 (from 11.5 to 8.8)
and even less 31% for those aged 80 to 84 (from 14.5 to 10).
Has Gardasil Really Eliminated Cervical Cancer in Australia?
© 10/08/2020 Children's Health Defense, Inc. This work is reproduced and distributed with the permission of Children's Health Defense, Inc. Want to learn more from Children's Health Defense? Sign up for free news and updates from Robert F. Kennedy, Jr. and the Children's Health Defense. Your donation will help to support us in our efforts.
Safety:
In part 1 and part 2 of this series, we discussed the HPV vaccine and its links to ovarian insufficiency and autoimmune disease. In part 3, we turn to questions regarding the effectiveness of the vaccine to prevent cervical cancer, and the limitations of relevant clinical trials to detect such a type of effect.
In this HPV vaccine series, Parts I and II explain how the vaccine works and the evidence suggesting there may be legitimate safety concerns. The remaining parts present questions about real-world vaccine effectiveness and identify specific ingredients which may pose harm.
Vaccination is unjustified if the vaccine carries any substantial risk, as healthy teenagers face little to no risk of dying from cervical cancer. Risk-benefit analyses must be conducted to ascertain the overall balance of benefits and harms on both individual and societal levels.