Videos:
Facebook is in BIG TROUBLE.

It has just been discovered that the Facebook Covid vaccine Fat-Checkers are funded by vaccine companies pic.twitter.com/gp3RKUDPBC

— .. (@Xx17965797N) August 31, 2022
Podcasts/Articles: 
Welcome! And congratulations on being an independent critical thinker!
The fact that you are reading this means you have gone beyond what most do: go to the 'Fact Checker' first, and decide that sites such as this are "Misinformation" and go no further.
Yes, "This is Extremely Dangerous to Democracy": brainwashing on a mass scale – repetitive, simplistic, fear-based and divisive manufacturing of popular opinion and thought.
When the media across the country are parroting the same script, the same mantras, it is obvious they are reading from the same feed with the same message. This is a form of mind control. Be it : "The New Normal", "Flatten the Curve" , "We Are All In This Together", "Build Back Better" "The Great Reset" or "This Is Extremely Dangerous To Our Democracy", the mantra is repeated across all mass media until we the people unconsciously chant  the New Truth to each other. Unfortunately, when the message is unilateral across all media sources, people assume it must be true.
Controlling the internet and social media is imperative for the puppet-masters to win the war against truth. The globalist elite is concerned that without strict vigilance through every means possible, too many people may seek alternative versions of reality outside the dominant narrative fed to us by the mainstream and social media.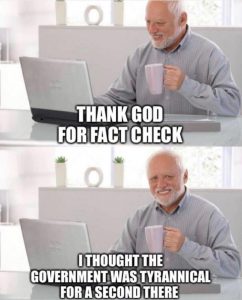 Contracted Fact Checkers such as FactCheck.org,  Politifact and Lead Stories are  very effective tools which apparently reduce access to "dangerous" sources of "misinformation" by up to 95%, especially when combined with algorithmic and troll based censorship, and labeling sources as 'conspiracy theorists', 'anti-vaxxers', 'anti-science', the 'tin-hat brigade' etc.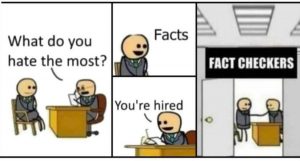 What has happened to Critical Thinking? Are we now so uncertain about what is 'Fact" and what is 'Fake" that we need a third party to decide for us?
Are the  'Fact Check' providers such as FactCheck.org, Politifact, or even Wikipedia, the independent arbiters that we could very well use in these confusing times with so much conflicting information?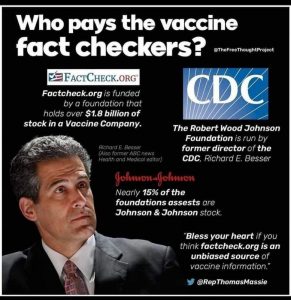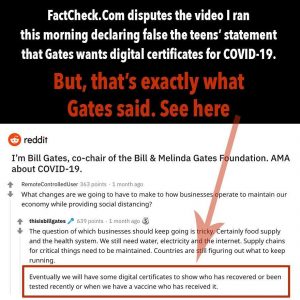 "During the pandemic, news outlets have widely looked to Bill Gates as a public health expert on covid—even though Gates has no medical training and is not a public official. PolitiFact and USA Today (run by the Poynter Institute and Gannett, respectively—both of which have received funds from the Gates Foundation) have even used their fact-checking platforms to defend Gates from "false conspiracy theories" and "misinformation," like the idea that the foundation has financial investments in companies developing covid vaccines and therapies. In fact, the foundation's website and most recent tax forms clearly show investments in such companies, including Gilead and CureVac".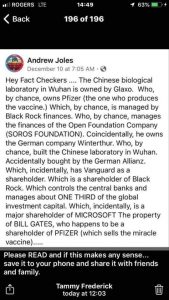 "YouTube CEO Susan Wojcicki says the platform will ban content peddling fake or unproven coronavirus remedies.
In an interview with CNN published Sunday, Wojcicki said YouTube would be "removing information that is problematic" including "anything that is medically unsubstantiated."
For example, she said, content that claimed vitamin C or turmeric would cure people of COVID-19 would be "a violation of our policy" and removed accordingly."
"In the interview with CNN, she also suggested that video that "goes against" WHO guidance on the pandemic will be blocked, an expansive policy that may be difficult to enforce in practice."